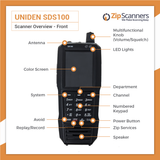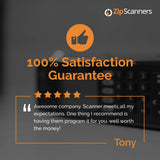 Christmas SALE on Uniden SDS100
Christmas SALE!
4 Counties of FREE programming ($110 value)
Best scanner of 2023 + top extras
This is the one to buy - it's simply the best
View the SDS100 (without deal pricing)
Sale ends on 12/23 - buy now
This is the one you want—look no further.
If you're buying a gift for your Dad (or Mom) this will get them 100% of what they need... and we'll answer all their tech support questions (so you don't have to).
The Uniden SDS100 is, by far, the top selling scanner of 2023. Since launched in June 2018, we can barely keep it in stock.
Deal includes Programming and everything needed for your scanner to work right out of the box.
Read reviews, watch videos, view technical mumbo jumbo here, but the Uniden SDS100 works everywhere & picks up everything possible.
SDS100 includes new, larger battery.
Uniden SDS100 Scanner 
FREE Programming (4 counties = $110 value)
Lifetime Tech Support
Free Shipping
Screen Protectors (3 Pack) 
On Set Remtronix SMA antenna

(820S with o-ring)

One Touch Start-Up

Desktop Stand
Note: All items must be purchased to get the deal
FYI - in addition to all of the above we'll provide lifetime tech support. If you're buying as a gift this means you don't have to provide tech support - that's what we're for!
Programming includes State (State Police, State agencies, etc.) as well as any county of your choosing (Police, Fire & EMS).
Simply enter the name(s) of the county(s) in the "County(s) to Program" text field & our scanner tech will program your scanner accordingly.
Add as many counties as you'd like for an additional fee. 5 counties are the most popular amount, but this varies wildly based on where/how scanner will be used.
We recommend adding as many counties as you might use.
It's easy to "avoid" and "review avoids" individual frequencies. You can turn off favorites lists for counties you're only somewhat interested in, but it's best to err on the side of adding more counties.