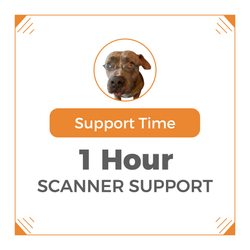 Support Time
Bought your scanner elsewhere & frustrated? Our experts can solve any problem

100% satisfaction guaranteed

Free for customers
If you bought your scanner from us, we're always here to help for free before and after sale. Chat with our support team now.
This support time is ideal for those who did not buy their scanner from us and find tech support either non-existent or incompetent where they did buy from. We can help—scanners are all we do.
What's included in Scanner Support Time?
1 hour of remote support. (If the task takes less time, you will still be charged for 1 hour)
What's not included?
Unlimited Support
Any Site Visit
I bought my scanner from you and now I have to pay for you to help me?
No. If you bought from us we will always help you for free. This is for users that bought a scanner somewhere else.
So you can talk me through programming my scanner over the phone?
Yes. But if you just want your scanner programmed we recommend buying our scanner programming service. This will save you a lot of time, money, and headaches.
So if I return my scanner from where I bought it & buy from Zip Scanners you'll help me for free?
Yes.
What if it takes less than an hour to fix my issue?
If it takes a minute or an hour, it's the same cost.
Will you log into my computer remotely to do this?
Most likely. Depending on the nature of the issue.
I work crazy hours, can you do this at odd times?
Put in what times work for you and we can almost always accommodate.
What's the deal with the 100% satisfaction guarantee?
We want you to be happy with our service. If for any reason you are not, we'll give you your money back. Our reputation is very important to us. 
Reasons to Buy
Professional service
US resident and native English speakers
You get to deal with an individual and not a ticket system
Over 15 years of experience
100% satisfaction guarantee