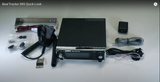 Beartracker 885 Uniden Police Scanner
Only police scanner + CB radio in one
GPS included
Released in the summer of 2017, the Uniden BearTracker 885 is the only scanner that can both scan frequencies and transmit/receive via CB radio.
While the combo of the CB and scanner in one is great, this scanner is lacking in many areas. While this scanner CAN pick up digital frequencies, it CANNOT pick up DMR or ProVoice, which covers large portions of the US. While all US and Canadian frequencies are on the scanner and can be easily set up, it does not come with Sentinel software. Without Sentinel software you cannot program favorites lists on a computer (why we do not offer programming), everything must be done on the scanner itself. On the face you cannot see what frequency or Talk Group you are hearing, the BearTracker 885 only displays the word 'Police or Fire', which limits capabilities. The CB does not have SSB.
So while this is a nice combo at first glance, it's a stripped down version of a digital scanner and a limited CB radio. So overall, "meh", is a good way to sum this scanner up. We still sell this scanner but we want to make our customers aware of it's limitations as our goal it to make all customers happy with their purchase. The ideal buyer of this scanner/CB combo is tuckers/RVers/road trippers who want to be able to use CB a little bit and hear what is going on in their area. That is why the internal GPS is great. However, if you'll be using from one location only, this is not the product for you.
I need a digital scanner, why should I buy the BearTracker 885?
The CB and scanner combo is pretty slick. While the BearTracker 885 can pick up digital signals, it CANNOT pick up some forms of digital, including: DMR, ProVoice, and moto trunked systems.
What is BearTracker Warning System?
BearTracker Warning System gives you alerts whenever there is nearby public safety radio traffic. The BearTracker 885 does this by checking the low-power signal produced by the radio in the public safety vehicle, so if you get an alert, you'll know that there is activity within a couple miles of you. This feature is legal to use, even in commercial interstate commerce vehicles.
Will the 885 go on sale anytime soon?
We don't know. Uniden does not disclose when they will be dropping prices and even when prices do drop, it is usually only $5 -$10. You can sign up for our emails & we'll keep you posted.
Additional Memory?
You can add a larger memory (SD card) to increase favorites lists and recording space. Recording time by SD card size:
2 GB = 6 hours
4 GB = 12 hours
8 GB = 24 hours
16 GB = 50 hours
32 GB = 100 hours
64 GB = 200 hours
What do BearTracker 885 buyers say?
CB works great.
Scanner does not work great.
Can't be programmed externally.
How is the BearTracker 885 different than the other digital scanners?
The BIG thing about the BearTracker 885 is that it's the only CB and scanner in one.
Compare Base Digital Police Scanners

BearTracker 885

HomePatrol-2

BCD536HP

BCD996P2

SDS200

TRX-2

Uniden
Uniden
Uniden
Uniden
Uniden
Whistler
Reception
Yes
Yes
Yes
Yes
Yes
Yes
Yes
Yes
Yes
Yes
Yes
Yes
Yes
Yes
Yes
Yes
Yes
Yes
No
No
Yes
No
With Paid Upgrade
Yes
No
No
No
No
With Paid Upgrade
Yes
No
No
With Paid Upgrade
With Paid Upgrade
With Paid Upgrade
Yes
25 MHz - 1.3 GHz
25 MHz - 1.3 GHz
25 MHz - 1.3 GHz
25 MHz - 1.3 GHz
25 MHz - 1.3 GHz
25 MHz - 1.3 GHz
No
No
No
No
No
No
Virtually Unlimited
Virtually Unlimited
Virtually Unlimited
25,000
Virtually Unlimited
Virtually Unlimited
No
No
No
No
Yes
No
Features
Yes
Yes
Yes
Yes
Yes
No
Yes
Yes
Yes
Yes
Yes
Yes
Yes
Yes
Yes
Yes
Yes
Yes
No
No
No
Yes
Yes
No
Yes
Yes
Yes
Yes
Yes
Yes
No
No
Yes
No
Yes
Yes
Yes
Yes
Yes
Yes
Yes
Yes
Programming
No
Yes
Yes
Yes
Yes
Yes
No
No
No
No
No
No
No
Sentinel
Sentinel
No
Sentinel
EZ Scan
Yes
Yes
Yes
No
Yes
Yes
More
4 GB
4 GB
8 GB
Dynamic
8 GB
4 GB
Yes
Yes
Yes
No
Yes
Yes
30mi.
30mi.
30mi.
30mi.
30mi.
30mi.
Battery Type
Not Applicable
AA
Not Applicable
Not Applicable
Not Applicable
Not Applicable
Not Applicable
8 hours
Not Applicable
Not Applicable
Not Applicable
Not Applicable
Size (inches)
TBD
6 x 3.25 x 1.25
7.25 x 2.25 x 6.5
5.75 x 10.75 x 3.75
7 x 5 x 3
1.75 x 7 x 5.5
Weight (oz.)
TBD
32
96
96
96
33.5
1 year
1 year
1 year
1 year
1 year
1 year
Launched
Summer 2017
Fall 2014
Fall 2013
Spring 2015
Winter 2019
Summer 2016
Key Feature
Scanner & CB Combo
Color Touchscreen
WiFi & Siren App
Software Not Included
Ethernet connectivity for remote streaming & control
NXDN & Removable Face
4GB SD Card & SD Card Reader
Microphone
Mounting Bracket Kit
DC Power Cord
Window Mount Antenna
GPS Receiver & RJ45 Cable
Owner's Manual
Looking to deeeep dive?
We took the time to scour the internet for you.
We do not offer professional programing on this police scanner model.
We DO offer programming on these models which we highly recommend buying over this model. 
Can I program this scanner myself?
We created programming videos to help you decided whether you can program on your own. If you going to program, we highly recommend watching videos and download the free software & programming BEFORE you buy. This will save you a lot of time and frustration. Maybe your programming needs are simple and this is not a big deal, maybe this is a huge program you can avoid.
How long does programming take?
It takes our scanner tech over an hour to program each scanner & this is ALL he does. For new & moderate scanner users we estimate 3-12 hours of programming. Setup time varies wildly based on scanner, area, scanner experience & general tech familiarity.
Programming is the #1 reason police scanners are returned and the root issue with 99.999% of any negative review you'll find.
While scanner programming is much easier than the days of crystal scanners, there is a learning curve like any other electronics purchase. While some scanner enthusiasts are highly technical and want to learn the ins and outs of programming, others want their scanner to just 'work' right out of the box.
Unless you're familiar with scanners, scanner terminology, own a PC (Mac's do not work), and want to learn the nuances of programming, we highly recommend buying a scanner that can be professionally programmed.
Scanner technology is fairly user-friendly, but scanners are not smartphones or iPads. If you're spending hundreds on a scanner, we recommend springing a few extra bucks so to get one that you're happy with long-term. 
Can't you teach me programming with your lifetime technical support?
No. Lifetime technical support is not unlimited technical support. We are always here to help and love to do so. We made how to videos and can help point you in the right direction, but we will not teach programming.