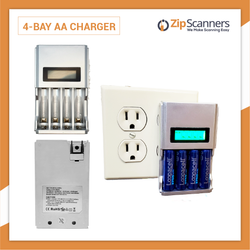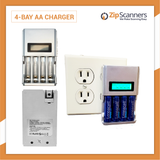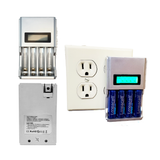 Specifics
Charge one AA 2800mAh battery in just 2 hours.
LCD indicating the whole charging progress, discharge function alleviates memory effect worries.
Each slot is individual, 1 or 3 batteries charge possible, no need to charge batteries in pairs.
Built-in negative delta v cut-off and short-circuit protection to prevent overcharging.
Easy to use—has LCD display so that the status of each battery's charging cycle can be easily seen. The sliding spring loaded negative pole makes inserting any type of battery a breeze.
Unique algorithm to detect bad or defective batteries and cease charging automatically.
Safety Protected
Controlled by MCU, and using -△V pulse charging, Overheat-detection to prevent overcharging.
Auto Identification - convenient help to figure out the installation problem about the battery (Insert wrong battery or insert battery incorrectly).
Charging Table
| | One Battery | Two Batteries | Three or Four Batteries |
| --- | --- | --- | --- |
| AA 1300-2800mAh Battery | 1.5 to 3 hours | 2.5 to 5 hours | 4 to 8 hours |
| AAA 500-1200mAh Battery | 1-2 hours | 2 to 4.5 hours | 4 to 8 hours |